Social Media and English: Their Role in Increasing Youth Literacy
Author: Naja Alifa Najmina,
 Internet is the core center of life in today's modern era. It's nearly impossible to separate a person from its gadget knowing the fact that we're dependent on them. In 2021, there are 4.66 billion active internet users, which is more than half the earth's total population (Johnson, 2021). Like all global phenomenon, internet has its own pros and cons. Its convenience and effectiveness gave us countless benefits that get us through our daily lives. Internet has deeply impacted a lot of big sectors, such as the education sector. Moreover, internet has been proven in advancing literacy among people, meaning to gain the ability and knowledge to read, interpret certain texts, as well as to make and communicate meaning. The sole focus of this essay is how social media, together with English, played a big role in increasing the global literacy rate.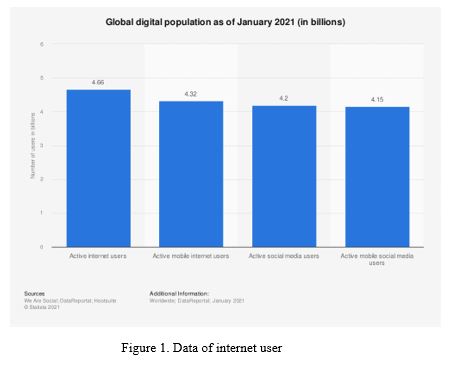 In the 21st century, literacy isn't always linked to books. Since the rise of technology, books are not the only source of knowledge. The role is also been taken apart by social media. Though social media have many shortcomings, we cannot deny that one of its merits is the influence whom social media brings has encouraged many people, especially youth, to start reading. Nowadays, teenagers browse social networking sites more often than they read physical books, and it doesn't mean they're ignorant. Studies find that social networking sites have helped young people boost their language understanding.
Take Instagram and TikTok for example. Instagrams newest development is the story translation. The feature will be able to translate a story with a text in a foreign language by tapping on the "See Translation" option. This also works on Instagram captions. On the bottom left of a post, you will see the same option as the story, click it and a translation will automatically pop up. Besides new features, the content on both apps has become a lot more educating and creative. For instance, the term "BookTok" might be familiar among TikTok users. BookTok is a theme relating to books where content creators can share their reviews, recommendations, and plotlines of a book they like. On Instagram, numerous accounts are focusing on posting educational content such as general knowledge, grammar, health, etc. Even social media influencers leave an immense impact on their followers. When influencers or celebrities share current issues on their story, majority of their followers are willing to read it themselves.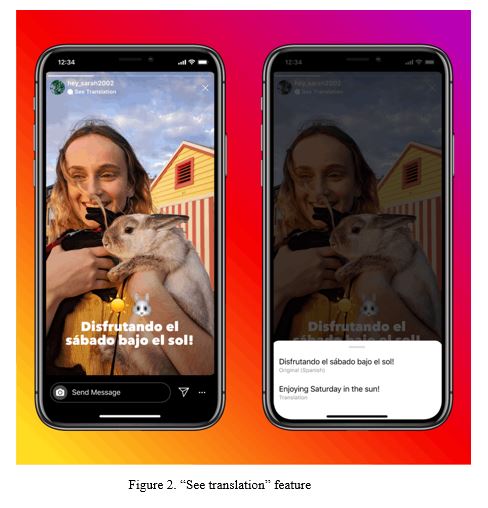 Speaking of issues, the internet has been facilitating us with innumerable selections of news and magazines. From renowned websites, lesser-known ones, to youth-owned magazines that are deemed to be more relatable for zoomers. Each of them offered daily subscriptions of updated news and mailed them to your inbox every single day. Reading news is very important as it keeps us on track of what's going on in our world, what are the big headlines and trends that's been circling around us. Aside from daily updates, another advantage we may not realize is it enriches one's vocabulary which is very beneficial for non-native speakers. By building a habit of reading news, people can learn hundreds of new words each year. Those who don't know the meaning of a word can simply copy and paste it on an online translator like google translate.
Another platform that's been substantial in promoting literacy comes from my most-used app, Youtube. From time to time, I've found creators that truly devoted their time to make quality content. They have successively merged information with great editing and animations resulting in an entertaining, aesthetically pleasing but gainful video. Viewers don't have to worry about getting false information since experts are now sharing their knowledge on Youtube.
The accessibility is also a gamechanger. E-book is an alternative version of physical book, converted to digital format for display on a computer screen or handheld device (Wahl, 2018). Besides being more sustainable, you will have the book within seconds after you purchased it. But in case you want to save your money, online library is the answer. Websites like Project Gutenberg, Open Library, and others are totally safe, legal, and don't charge you any payment. They have many selections of genres, from fiction, non-fiction, religion, and so on. All you have to do is register your e-mail, set up a password, then you'll be free to borrow. But if you prefer physical books, you could order books online, simply by searching for the title on a search engine, put up your credit card as well as other necessary information, and the book will arrive as estimated on the site.
Now, you may be thinking, what's the correlation between English and literacy? English is the most mainstream language you will encounter when you're surfing the internet or social media. It allows people from different countries to communicate and share opinions without difficulties. From Instagram posts to TikTok videos, creators mainly used English as their language. And so, it has become somewhat a trend among Gen Z to have the ability to speak English. Mobile language apps have made it easy for us to learn English. It's way more inexpensive than an in-person class and has more flexibility. The popular language learning application Duolingo for example, is facilitating its users with adaptive algorithms and gamification that suit every one of their learning speeds as well as making the process more amusing.
Social media, together with the help of English as a mainstream language, seems to be further effective in improving Gen Z's literacy skills. The fact that English is a dominating language online means it requires you to be able to understand the language. There are many courses at an affordable price that you can choose from. Social media content has transitioned to a lot more diverse and educational mixed with touches of humor, making it not too serious that it doesn't feel like learning even though you earn new knowledge. It also creates a community where creators all over the world can connect and share their likes with their viewers. Other than that, simple updated features such as auto-translation on Instagram are also extremely helpful to know the meaning of a word people don't understand. With social media users growing day by day, the global youth literacy rate (aged 15-24 years) has raised to 92% in 2019 (UNESCO, 2021). Hence, English and internet held a crucial part in the future of literacy.
Saya generasi muda yang peduli literasi! Artikel ini ditulis sebagai bentuk serta EF Literacy Day Competition 2021: https://www.ef.co.id/writing-competition.
References
Johnson, J. (2021, September 10). Worldwide digital population as of January 2021. Statista. https://www.statista.com/statistics/617136/digital-population-worldwide/
Statista. (2021, September 10). Global digital population as of January 2021 (in billions) [Graph]. Internet Users in the World 2021. https://www.statista.com/graphic/1/617136/digital-population-worldwide.jpg
Wahl, J. (2018, July 19). What is an eBook? Understanding Why They Work and How to Make Your Own. Learn.G2. https://learn.g2.com/what-is-an-ebook
Instagram. (2021, July 23). [Image]. How to Translate Instagram Story. https://imgix.bustle.com/uploads/image/2021/7/21/e32079b7-9fb4-4b0f-82f8-79e3c30afefe-social-1×1-2.png?w=760&h=760&fit=crop&crop=faces&auto=format%2Ccompress
UNESCO. (2021). Literacy for a human centred recovery: Narrowing the digital divide [Fact sheet].
https://en.unesco.org/sites/default/files/ild-2021-fact-sheet.pdf
Article Source: http://www.smaitalirsyadpwt.sch.id/social-media-and-english-their-role-in-increasing-youth-literacy/